Web Product Managers hear pretty often the following terms during their daily business: User Experience Design, User Interface Design and last not least: Usability. Unfortunately the use of these terms is sometimes a little bit messy and can lead to confusion or even misunderstandings. But no need to worry, at the blog of Whitney Hess I found a cool presentation that frames out the most common misconceptions about user experience design:

(the presentation needs a bit time to load, please be patient – it is worth it!)
10 Most Common Misconceptions About User Experience Design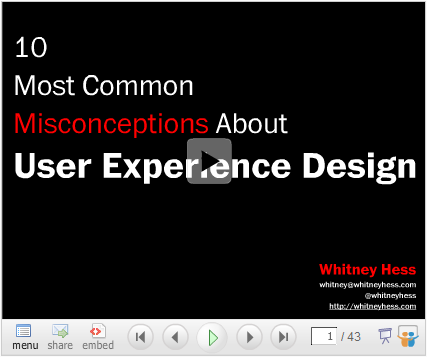 My few cents:
user interface design vs. user experience design (See misconception number 1):
Yes, the user experience design is more than just about designing a user interface, it is about the "whole thing". To create a great user experience the whole system needs to be designed for it.
user interface design vs. usability (See misconception number 4)
A feature that has a good usability is not necessarily useful for the user. Sometimes I see stuff where I think they have a good usability, because they are easy to understand and there is a clever way how the user interface got realized, but the question "Why should I use it?!" just doesn´t get answered.
Btw.: Pay special attention to the comics in the presentation! They are just great!
What is your opinion about this?